Hey, Woodlawn Family!
We are committed to keep you informed about what is happening with us as a church during this ever-changing season of COVID-19.
Since March 22, our staff has worked diligently to bring you online worship experiences until the time we could meet in person. In late April & early May, a group of hard-working laity looked at the current stats for our area to establish protocols & give recommendations for reopening our worship services to meet in person. At that time, the number of cases were leveling out & predicted to trend downward. Together with the CORE Team & Church Council, the decision was made to restart in-person worship this past weekend, July 12.
We offered three worship services in person as well as broadcasting them online. Understandably, many of you were not ready to meet back in person or volunteer during worship services & we honor that.
The leadership of the church, both staff & laity, have been praying daily for guidance as we watch the statistics of our local area. Unfortunately, the number of COVID cases is on the rise in Bay County & we want to lead you safely during this time. We also care deeply for our pastors & staff & want to keep them healthy so they can continue to offer meaningful worship experiences for you. In light of all these things, we will offer the following worship opportunities:
Worship at the Water will continue to meet in person at Sharky's at 8:30am on Sunday mornings. Because it is outdoors, we feel this is a safer venue to offer. However, we cannot maintain social distancing when there is inclement weather. On those days, we will be online only. As always, the service will be shown online each week so you can join that way if you aren't comfortable coming back quite yet.
9:40am Contemporary & 11:00am Traditional services will only be offered through our online campus at this time. If you aren't sure how to engage with any of these worship experiences on our website or Facebook, please reach out to us. We will be happy to get you connected.
We miss you so much & can't wait until we are able to be together without limitations, but for the time being we are committed to caring for you by offering these worship options.
We appreciate your grace with us as we have sought the right course & will continue to keep you updated.
May God give you grace and bless you and keep you as we await what He's going to do in the midst of this. We know that as we are waiting, God is always working. We can't wait to see what God is going to do in this, to bring us to the other side, so we are a better church, a stronger church, and a larger church. God bless you!
Please scroll below for more information on in-person & online worship.
IN-PERSON WORSHIP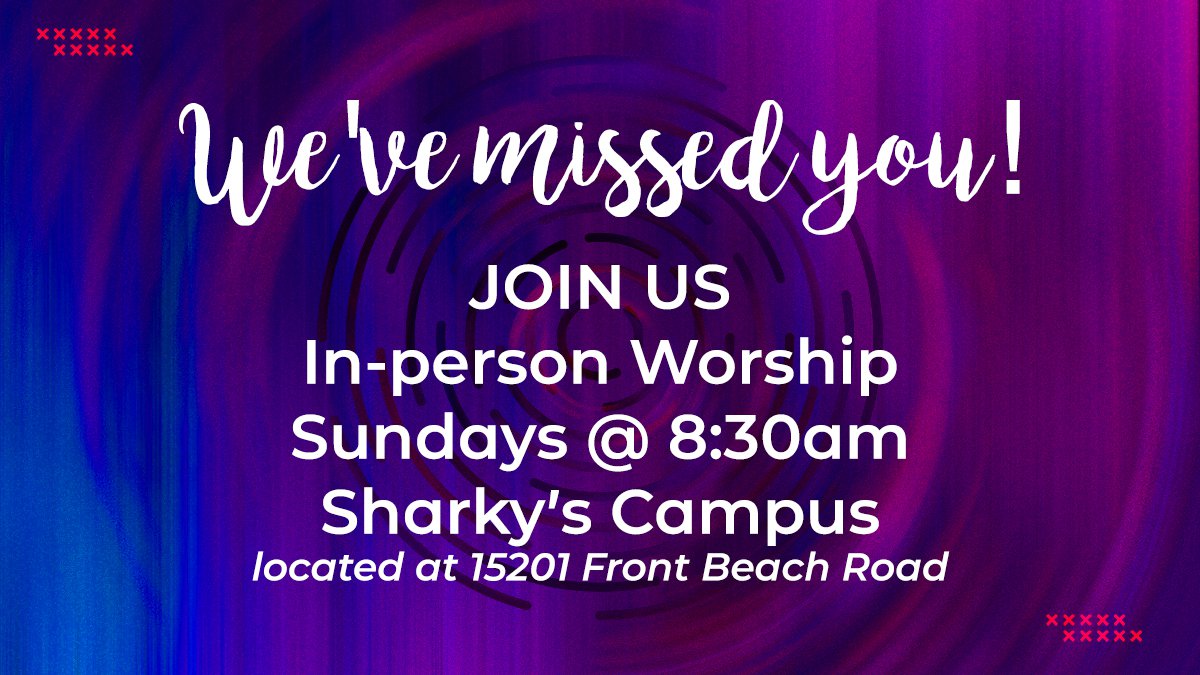 IN-PERSON WORSHIP PROTOCOLS
As we reopen worship services at the Sharky's Campus, our intention is to follow CDC guidelines and State of Florida recommendations for in-person, large group activities. Our services have been re-designed to create an environment to reduce the risk of virus exposure and spreading by following social distancing guidelines.
We encourage 'at risk' members to consider whether they should return or not at this time. Senior citizens and individuals with a significant underlying medical condition (such as chronic lung disease, moderate-to-severe asthma, serious heart conditions, immunocompromised status, cancer, diabetes, severe obesity, renal failure and liver disease) are strongly encouraged to stay at home and take all measures to limit the risk of exposure to COVID-19.
We encourage anyone showing symptoms of sickness please refrain from attending in-person until their symptoms disappear.
Please wear a mask to help reduce the risk of spreading germs. Our volunteers will also be wearing masks.
Please wash and sanitize your hands before entering worship.
The entrance will be opened 30 minutes prior to the worship service beginning. Please refrain from congregating at the entrance.
An usher/greeter will check you in and verify/update your contact information prior to entry.
Please, no singing out loud. Participants should sing silently to themselves to prevent the spread of particles.
Please maintain physical distancing from other attendees -- no hugging or shaking hands.
Offering containers will be available as you exit. Electronic giving is also available.
No food or drink will be served on Sunday mornings.
SAFETY IS OUR TOP PRIORITY
To minimize the risk of virus transmission, we have adopted the following cleaning activities:
Hand sanitizer will be available.
Our services will remain touch-free, social distanced, and we will suspend providing any handouts.
Cleaning and disinfecting procedures will take place prior to service.
Note that although we are taking ALL measures possible, we cannot guarantee a virus-free environment and there is an assumed COVID risk when you attend worship in-person.
ONLINE WORSHIP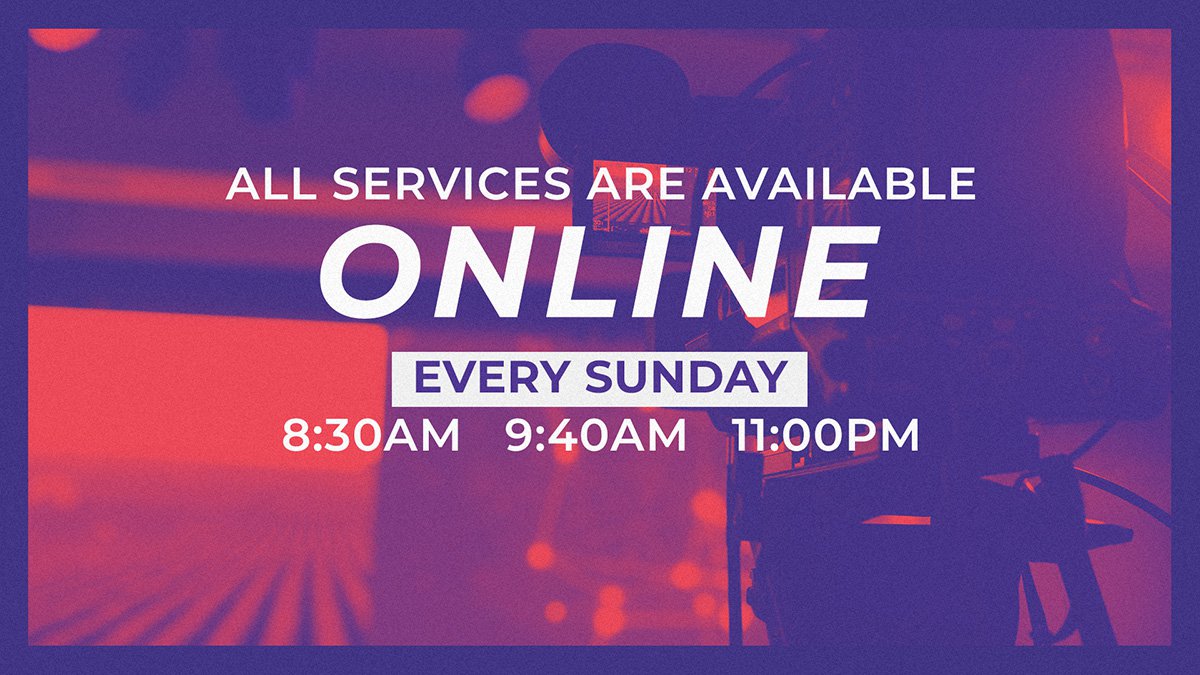 If you are unable to worship with us in-person, please continue worshiping online at the following times and links:
8:30am Worship at the Water - Facebook only
9:40am Contemporary Service - Facebook & Website
11:00am Traditional Service - Facebook & Website